Two teams from the Barcelona Institute for Global Health (ISGlobal) have recently published different studies evaluating how the lack of green spaces in cities can influence the mortality of the population, as well as the association between exposure to green areas and a better development in children.
Mortality attributable to the lack of green spaces
A team of researchers from ISGlobal's Urban Planning, Environment and Health Initiative have published the ranking of European cities with the highest mortality attributable to the lack of green spaces.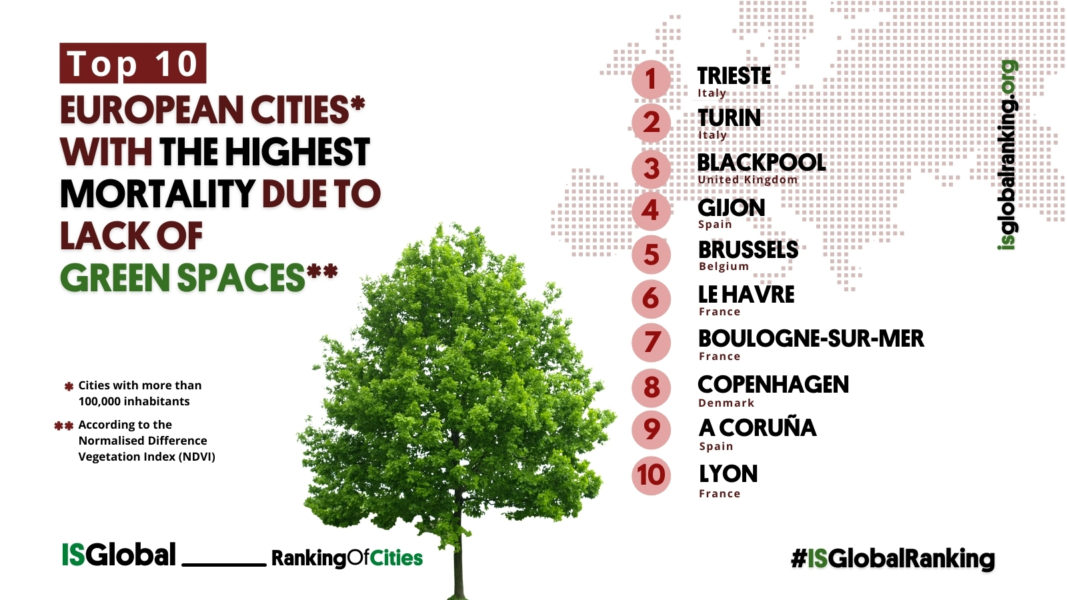 Check the complete list at www.isglobalranking.org
This ranking is the second part of a project that is evaluating urban health in more than 1000 European cities in 31 different countries. Last January researchers published data on mortality attributable to air pollution.
Now, the authors concluded that almost 43,000 premature deaths in Europe could be prevented every year if urban green spaces were increased, since 62% of the population studied lives in areas with fewer green areas than those recommended by the WHO.
Almost 43,000 premature deaths in Europe could be prevented every year if urban green spaces were increased
Learn more about this project in the following video, published on the occasion of the PRBB open week:
Green spaces and child development
Another study in which ISGlobal participated analyzed why the exposure to green spaces in children translates into better development. They concluded that the main reason for these benefits would be the reduction of the adverse effects caused by traffic exposures, specifically nitrogen dioxide (NO2).
The scientific team followed a group of 30,000 boys and girls from Vancouver (Canada) from birth to age five, evaluating their development (physical, social, mental …) in contrast to the presence of green spaces in each neighborhood.
"These findings suggest that planning strategies aimed at increasing our urban greenspace will have a positive effect on early childhood development and may confer lifelong health benefits"
Matilda van den Bosch, researcher at ISGlobal and coordinator of the study.
Thus, as the authors indicate, the results show that the relationship between green spaces and better child development "was mediated, to a large extent, by reductions in NO2 air pollution levels and, to a lesser degree, by reductions in noise and PM2.5 pollution in the neighbourhood " and could be extrapolated to Europe.
Reference article
Pereira Barboza E, Cirach M, Khomenko S, Iungman S, Mueller N, Barrera-Gómez J, Rojas-Rueda D, Kondo M, Nieuwenhuijsen M, Green space and mortality in European cities: a health impact assessment study. The Lancet Planetary Health 2021; 5: e718–30.
Ingrid Jarvis, Zoë Davis, Hind Sbihi, Michael Brauer, Agatha Czekajlo, Hugh W Davies, Sarah E Gergel, Martin Guhn, Michael Jerrett, Mieke Koehoorn, Tim F Oberlander, Jason Su, Matilda van den Bosch. Assessing the association between lifetime exposure to greenspace and early childhood development and the mediation effects of air pollution and noise in Canada: a population-based birth cohort study. The Lancet Planetary Health. October 2021.