The excess of air pollution, noise and heat and the lack of access to green spaces in Barcelona and Madrid are associated with more than 1,000 and 900 deaths per year, respectively. In Barcelona, this number accounts for 7% of the total premature mortality, according to a recent study published by the Urban Planning, Environment and Health initiative of the Barcelona Institute for Global Health (ISGlobal).
Scientists within this initiative, led by Mark J Nieuwenhuijsen, have been studying the effects of each one of the listed parameters in human health. They have known for years that Barcelona, as many other European cities, exceeds the international exposure recommendations. But in this study they reported for the first time that, unlike what happens in the Spanish capital, in Barcelona premature mortality is higher in areas with lower socioeconomic status.
To further discuss urban health in Barcelona, and to go over the urban planning of the Catalan city, we meet Mark J Nieuwenhuijsen, research professor and director of the ISGlobal Air Pollution and Urban Environment Programme in the Barcelona Biomedical Research Park (PRBB).
According to your study, a high percentage of the premature mortality in Barcelona is linked to poor urban and transport planning. But what do these concepts mean?
Urban planning is how you design a city. Where do you put the streets, green areas, bus stops, etc. in a city or in a new neighbourhood. So it is kind of the hardware of a city, what elements you have. And then, transport planning is how you get people from one place to the other. And there is a link between how you plan a city and how people get around and the exposures generated and the health effects caused.
Nowadays, cities are quite segregated. For example, richer people tend to live in the centre and the poor tend to live in the periphery. Or many people live further away from their work. This segregation means many people have to move within the city and they use the car. They drive to work creating air pollution and noise. Besides they don't do physical activity. So you end up having health effects and a number of deaths related to this situation.
The results from Barcelona and Madrid are just the tip of the iceberg of a big project we are conducting within 1000 European cities. We have analysed air quality and we have found that by reducing air pollution we could avoid 200,000 deaths per year in these cities.
And what is the main source of air pollution in Barcelona?
There are two main air pollutants: nitrogen dioxide (NO2) and fine particles (PM 2.5). NO2 mainly comes from motorized traffic, whereas PM 2.5 comes from different sources. Specifically, in Barcelona there is 30% of PM 2.5 related to motorized traffic, about 10% comes from the harbour and a bit from the industry from the Llobregat area; but some comes also from household heating or even the Sahara dust
So does Barcelona have to get rid of motorized traffic to improve their air quality levels?
Well, Barcelona has to face many challenges, but this is definitely one of them. Reducing car traffic, also introducing the superblocks, fostering active transportation (cycling and walking) and public transport that are healthier, more sustainable and create more liveable communities. As well as introducing green spaces, because we have very little green space in the city.
With the COVID19 pandemic we are seeing how many people spend their weekends over the beach or in Collserola. Now we have the opportunity to think about the model of city we want. Not only in terms of green space areas, I am also thinking from an economic point of view. We have to decide if we want to support the local economy or online shopping. And on a bigger scale, we should think if we keep fostering tourism or if it is time to invest in a more sustainable economy based on science and technology.
"The Covid-19 pandemic offers us an opportunity to choose what kind of city we want"
Mark J Nieuwenhuijsen (ISGlobal)
I see you've thought a lot about it. But do you think we have taken advantage of the pandemic to change anything?
Yes! I have thought a lot about it. I have even published a little book putting together some ideas about 'COVID19 and the city', and I think the answer is yes. Barcelona, as many other European cities, has tried to reduce car traffic in the streets and to increase active transportation, especially cycling, by introducing more bike lines. Barcelona is a great city, but 60% of the public space is used by cars. And car trips are only one out of four trips that people make. But for many years, Barcelona has decided to give space to the cars. We have streets like Gran Via or Aragó with five car lanes. These are essentially motorways inside the city! And they are extremely noisy! This is also something we have realized during the pandemic, that the noise does not need to be part of the city.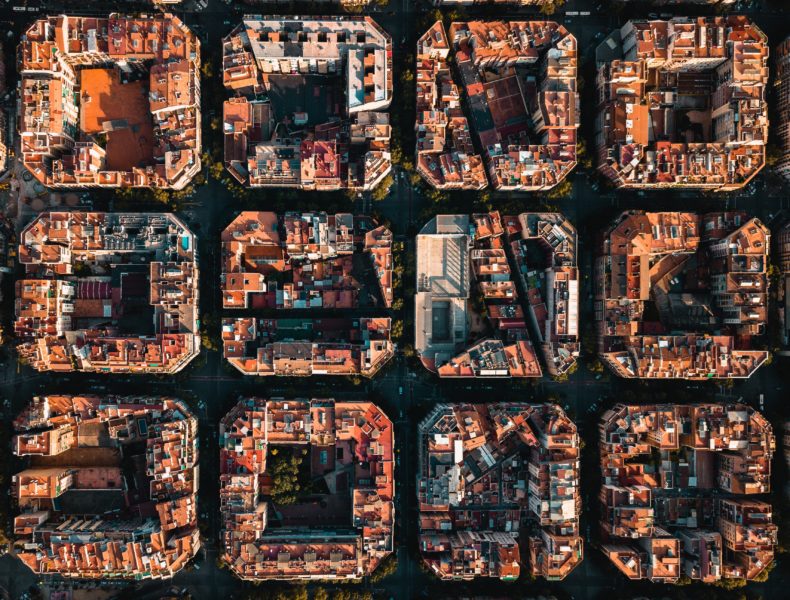 It is clear that Barcelona is now trying to follow a more sustainable and healthy model. But what has happened in recent years? Has the city gone for or against sustainability?
I think it depends on what you look at. When the Eixample was designed by Idelfons Cerdà, it was supposed to be a very healthy neighbourhood. The idea was to have blocks withs shops and schools close together, with a lot of green space inside the blocks and then wide streets with fresh air. It was a great idea! But of course, the green space never got there and, in the 60s, the streets got filled up with cars.
The building of the "rondas", around 1992, made possible the arrival of more cars to the city, many of them coming from outside Barcelona, because it was easy to drive. It is true that car technology has improved and air pollution is going down, but this is not enough. We are still above the WHO guidelines.
At this point, with superblocks and bike lines I think it is clear that the city is trying to do something, but there is so much to be done. We want to have superblocks in all the city! We have estimated that if we implemented 500 superblocks in Barcelona, we could reduce premature mortality and save up to 700 lives each year.
In order to explain this superblock project in a more enjoyable way, we have prepared a comic that mixes stories from ISGlobal scientists with fictional characters. All of them talk about real circumstances that happen in Barcelona and we give an answer based on scientific evidence.
Barcelona is a great city, but 60% of the public space is used by cars; we need more superblocks.
So if we have the solution, what are we waiting for?
It is always difficult to make changes because there are always objections and a lot of resistance. In general, we humans don't like changes. Besides, in many City Councils you have all the departments separated and it is difficult to implement this kind of initiatives where urbanism, health, mobility, etc are involved. And on top of this, all these remodelling processes are extremely expensive. The budget to produce the superblocks of the Eixample is about 38 million euros. So we need some time to transform the city.
Reference article
Tamara Iungman, Sasha Khomenko, Mark Nieuwenhuijsen, Evelise Pereira Barboza, Albert Ambròs, Cindy M. Padilla, Natalie Mueller. The impact of transport and urban planning practices on health: Assessment of the attributable mortality burden in Madrid and Barcelona and its distribution by socioeconomic status. Environmental Research. March 2021. https://doi.org/10.1016/j.envres.2021.110988.