According to the most recent Performance Report (2018), the Barcelona Biomedical Research Park (PRBB) is once again amongst the top research locations in the international arena, as well as the largest research hub in the South of Europe in the field of biomedicine. The updated numbers from the year 2018 confirm a critical mass of 1,400 people from 45 different countries and an aggregated research spending of more than 100 million € per year.
The PRBB is a multidisciplinary park with six independent research centres that live together in one common space, and where experts from different disciplines get cross-fertilized. They share a fully open research space and are highly successful in capturing competitive funding, especially for large scale projects.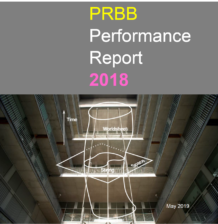 Following the vision and mission of the PRBB, the park aims to provide the best environment for biomedical research of excellence. Some highlights from the last year confirm that the centres of the park – and the resesarchers – are indeed doing very well:
The 2018 PRBB Performance Report offers for the first time a selection of 20 research highlights of the year from micro to macro. It also shows, one more year, outstanding indicators for scientific excellence in terms of scientific publications – 12 papers in Science and Nature, 55 in other Nature group journals –  and of events organised – 277 scientific conferences. 
You can download the full Performance Report here in English (click here for the Catalan version).
You can also see Performance Reports from previous years here.