We take the chance to get to know her better.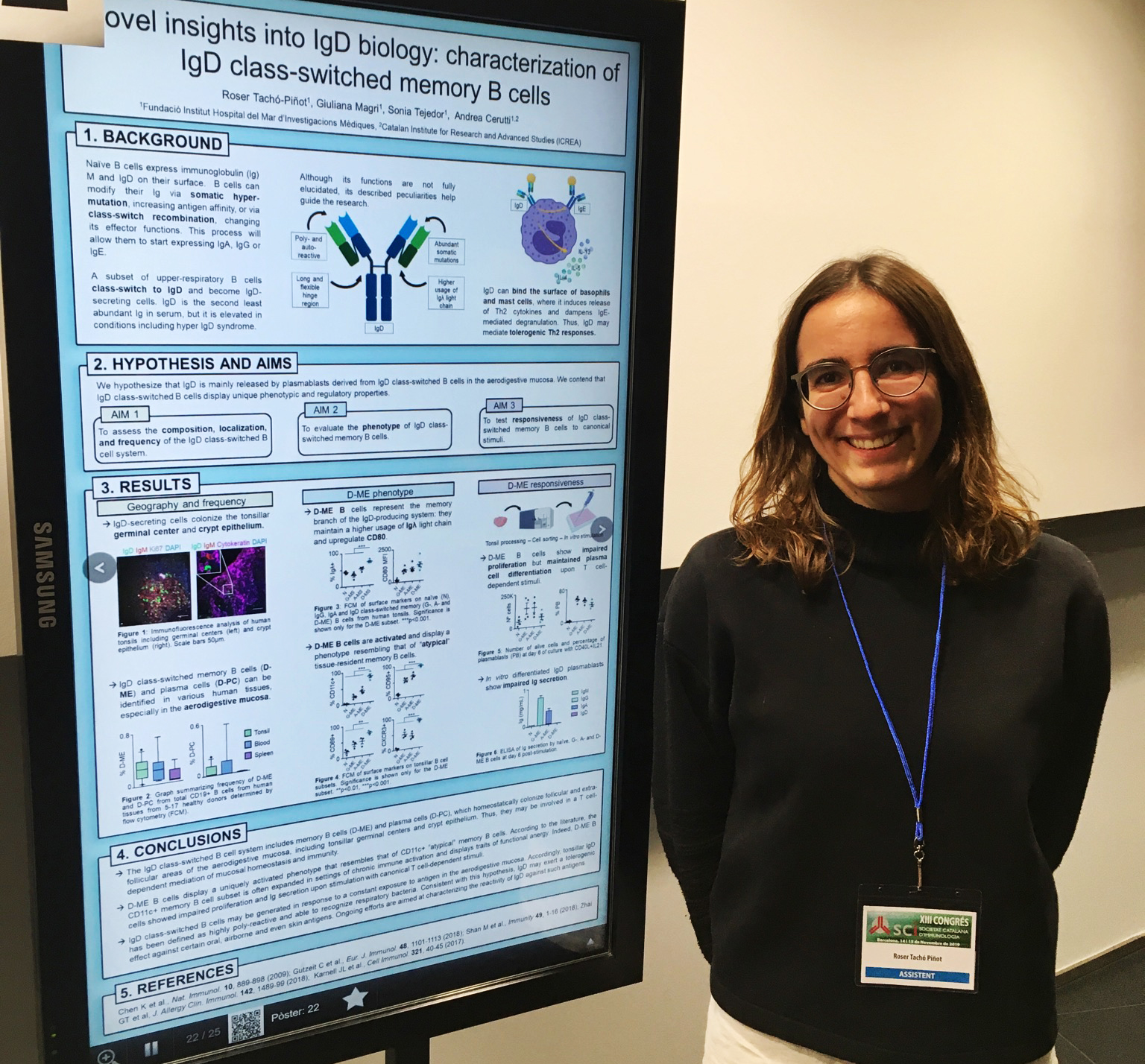 How did you end up at the PRBB?
Two years ago, I came to the IMIM's
B Cell Biology laboratory
, led by
Andrea Cerutti
, as an extracurricular internship student from the Biomedical Sciences degree at the Autonomous University of Barcelona (UAB). When I finished my degree, I continued as a trainee of the Master of Advanced Immunology (UB-UAB). During this course I developed my master's degree project by studying the role of Immunoglobulin D, a type of antibody, in the respiratory mucosa.
What are you doing at the moment?
I am currently a lab technician and I am still working on the same project, trying to understand the cells responsible for producing this antibody and what their function is in the immune response. That is why I use many techniques such as cell culture, flow cytometry, immunofluorescence and molecular biology techniques, all of them in
human cells
.
What is your usual schedule?
As for all researchers, my schedule is very variable. I usually arrive at 9, but if I have very long experiments I get in earlier, like last Monday, when I arrived at the PRBB at 7:30 in the morning and took this picture. It is hard to set an early alarm, but in exchange you often get to witness beautiful images!
What would you highlight most about the PRBB?
Apart from the excellent quality of the research, the good atmosphere of co-operation between researchers, and the wide range of conferences and training activities, my favorite part of the PRBB is the location. To see the sea every day from work is precious and I really value it. I also enjoy the most recreational and social activities organized by the PRBB: I am a volunteer at the Open Day and a member of the PRBB choir!
Of the PRBB I would highlight the excellent quality of the research, the good cooperative atmosphere, and the wide range of conferences and training activities available, besides the location!
What are your hobbies?
My main hobby is music: from writing and recording a song, playing with friends,
singing at the PRBB choir
or going to concerts!
Any motto you would like to share?
I'm not sure it is a motto, but in my house we always said that "that who does everything he or she can is not obliged to do more". This helps me to move forward when something has not gone well, but at the same time it forces me to try my best in everything I do.