For ten  years, the PRBB choir has worked and offered repertoires rich and diverse in rhythms, styles and composers. The person behind this 'scientific choir' since its beginnings is the musician Òscar Salvador. A boy who played music making the doors squeak is today a composer, pianist, director and musical producer. Who better than him, then, to talk about our choir, his work as the director and the musical creation! Before, however, we ask him to recommend us five pieces to listen to during this reading and he suggests: 'Simply joy', which he composed, 'Claire de lune' by Claude Debussy, 'Classic Symphony' by Sergei Prokofiev, 'Private investigations' by Dire Straits, and a bit of Bebop by Oscar Peterson.
"I love subtle worlds, weightless and pleasant, like soap bubbles"
Wow, this is from the "Cantares" poem by Antonio Machado! I identify a lot with this phrase because it's the summary of any artistic activity; because it's based on the immediacy of things, the present moment, enjoying the instant… And soap bubbles are an instant, as is each art manifestation and, above all, music.
Let's talk about musical instants then…
Schopenhauer, who is considered the artist of philosophy, was deterministic and said that we cannot escape from our fate, but that there is a small door through which, at the right time, we can escape through 'the beautiful moment'. That is to say, the moment when you observe a painting, look at a picture, listen to a song… In this instant, you can escape your fate. I think it's beautiful! And even if it is just this, it gives sense to art and also my job.
And how is the job of a composer?
There are no rules to compose. There are different composing processes, you can choose a melody and harmonize it, or start with a harmonic texture and, from there, come up with a melody; you can think of an accompanied melody or in a sum of melodies – a more contrapuntal style. Or you can focus in a colour.
Colours in music?
This is often done by jazz artists. They focus on a colour, which can be a type of scale, and they start taking out motifs from there, which are very similar because they are within that colour. For example, if I want a specific emotion, I look for a particular colour which inspires me that emotion. The colour comes from the scale type which impregnates the piece and, from here, you can match up with the effect that can generate a compass type or another, particular motifs, dynamics, articulation, instrumentation…
How did you get into the choir world?
Since I was 17 I have been conducting – it has been already 26 years! I started in a very casual way. I was studying piano and learning musical language and, in order to pay my studies, I looked for a first job: giving music lessons. Then I started as a musical-theory teacher in the Catalonia Orfeó, with twenty students. The director, Jordi Forés Ribera, encouraged me to try the choir world and when he retired, I took his place. He, together with Manel Cabero, founded the Catalan Federation of Choir Entities.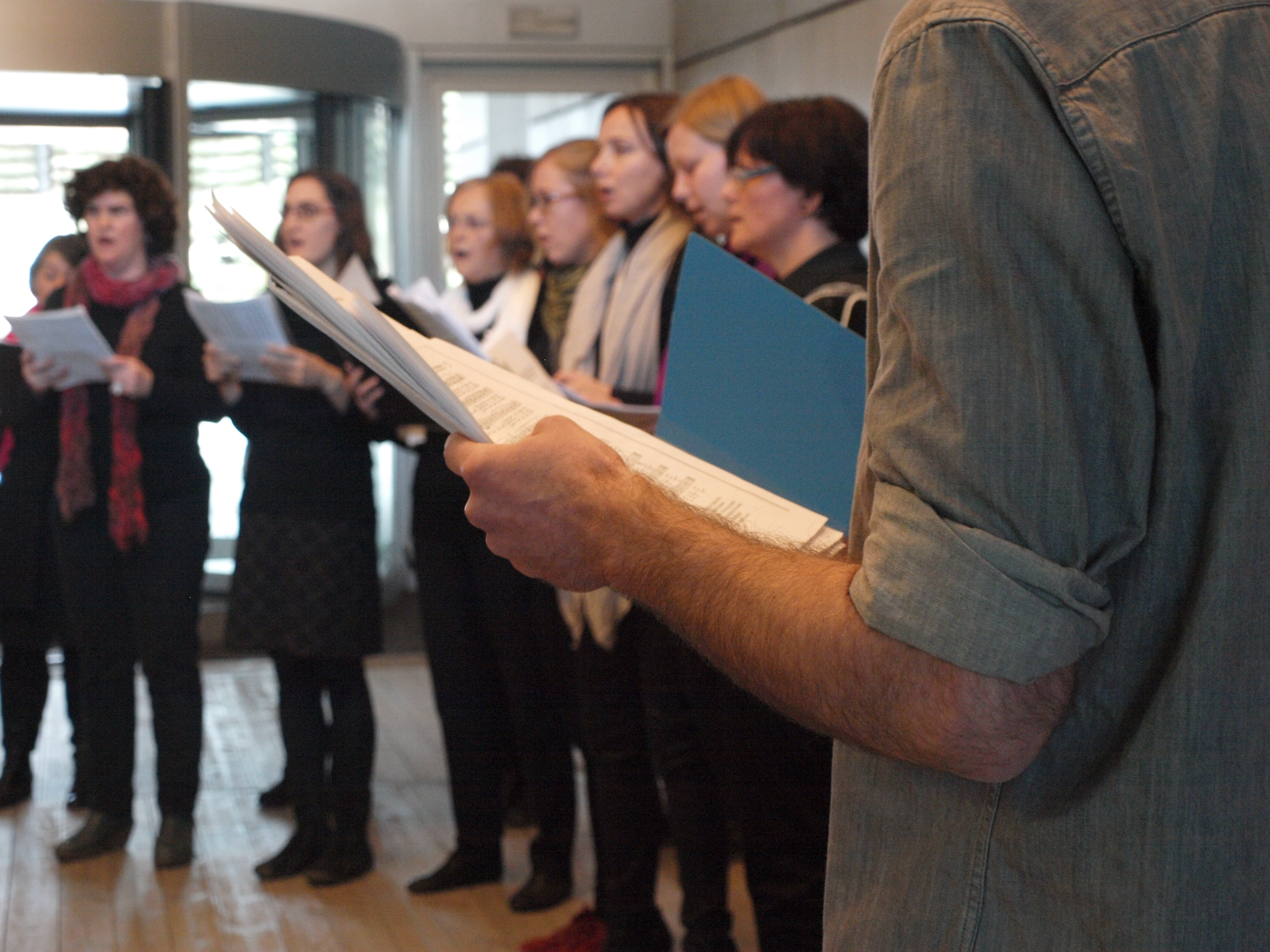 And it's been a little bit more than 10 years that you started conducting the PRBB choir…
Yes. The PRBB choir was born with me. At the beginning, we were few people and we worked on a very diverse repertoire. Ten years later, we realised we had to orientate the choir to people who never have had the opportunity to participate in an activity of this kind. There are people who don't know what singing in a choir means; they think it's something for old people, as if it was an old-fashioned thing. And we wanted to separate it from this concept.
How is the experience of conducting a choir made up of scientists?
I have always worked conducting amateur choirs. In fact, I have to say that there are few professional choirs in Catalonia. The great majority are amateurs, and in this world, there are different levels which are given by the musical aptitudes of the singers. In the PRBB case, one of its characteristics is that singers are itinerant, they come and go often, and this makes it a little bit more difficult, because when you finally have a trained choir that sounds good, singers stop comiong because they finish their PhD or the work they were doing at the PRBB and they leave.
What a challenge as the director!
It's a constant job to be constantly renewing the choir members, a thing which doesn't happen in other groups. But I have to say that, within the scientific world, I found a lot of people with musical notions and musical aptitudes – even if they don't know music theory, they are good with the rhythm, tuning, expressivity… and a very curious characteristic from the PRBB choir is that, despite the high itinerancy of the singers, only few times they are out of tune. This is a feature that remains during the years. I don't know if it is due, in some way, to the conformation of the scientific brain.. Certainly, in other choirs, we are always working to maintain the starting tune without lowering it.
"A very curious characteristic from PRBB choir is that, despite the itinerancy of the singers, very few times they are out of tune"
Is there any secret to conducting a choir with itinerant members?
The great advantage in PRBB choir, and it has been so for some years, is the high motivation level. It is true that members are itinerant, but there is a group which stays, and as long as motivation remains in this group, which also renews from time to time, there is room for maneuver. It is like body cells (laughs), they renew every seven years! So I would say that choir cells – the singers – are renewed every 3 to 4 years. And during these 4 years you can do many things.
"Choir 'cells' – the singers – are renewed every 3 to 4 years. And during these 4 years you can do many things"
Motivation has to be trained, then.
To maintain this motivation, we have a straight communication with the choir, we see which are the priorities in music interests, which repertoire we can do and, from here, we start looking for sheets and also didactic material which can help us to speed up the rehearsals. And we don't focus only in the repertoire, but also in rehearsal dynamics, because if it is boring people, obviously, leave.
What do you mean?
You cannot spent too much time with one voice (soprano, tenors..) and you have to make music in the fastest possible way; in 15 minutes you have to get people to see that something starts sounding good, and when you do it, it is a pleasure to see people's reaction, how their face gets illuminated. Then you think «I got them!». It is also necessary to have a good mood, trying to lead the rehearsals without dramas. And if things don't come out the right way, insist on it, but knowing also when you should stop, to avoid being trapped in a bar and ending the rehearsal with the feeling that you've done nothing and that the little you've done you haven't even done it right. You need to have a certain psychology with the group.
"In 15 minutes you have to get people to see that something starts to sound good and when you do it, it is a pleasure to see their faces illuminated"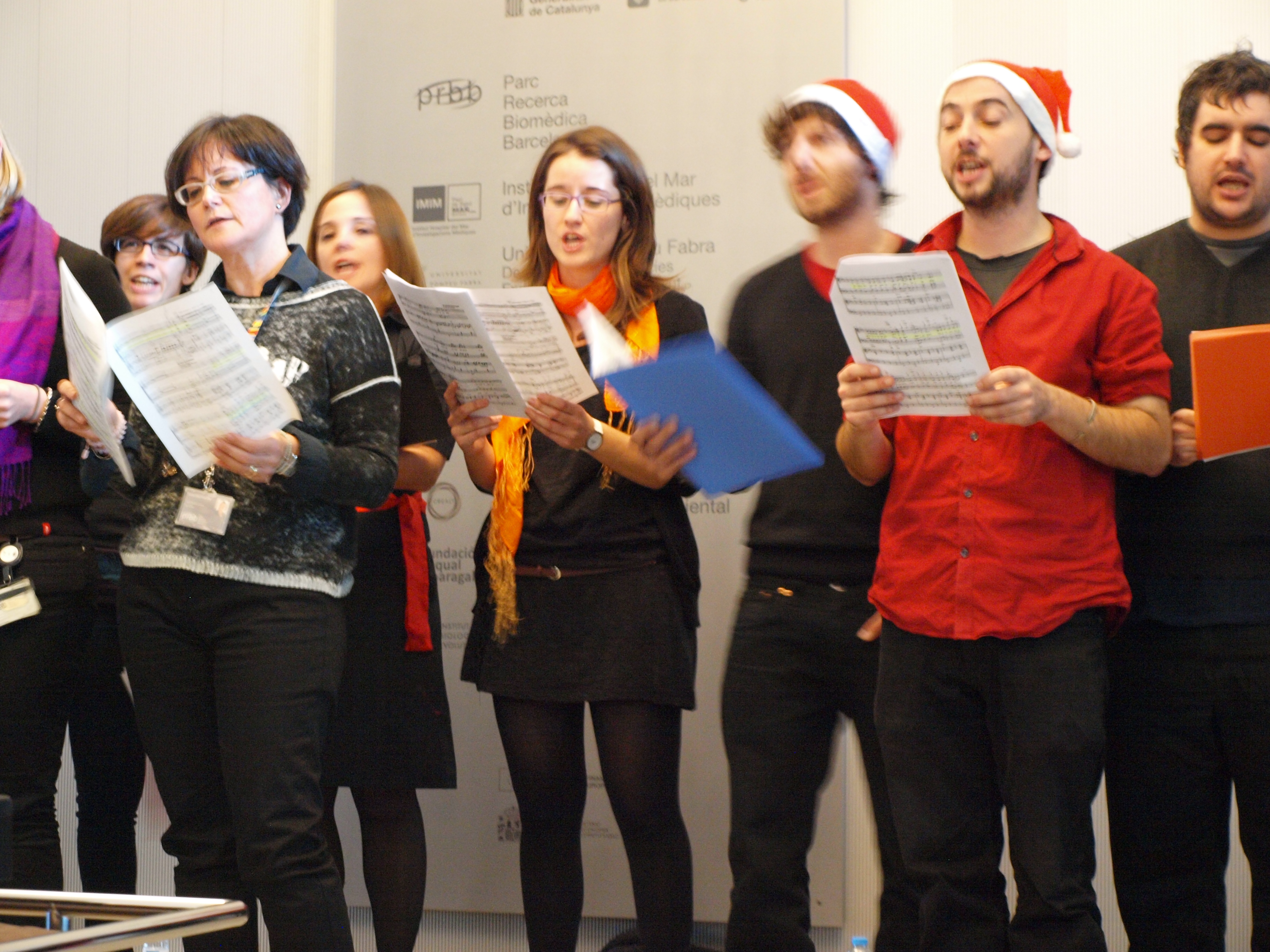 Which moments do you value more from these 10 years with the PRBB choir?
There are a lot. Especially, whenever we do a concert, we receive the affection of the audience. And it is not a gratuitous applause, but an applause that means "we have had a great time, we have enjoyed a great concert". Also to see the singers have the feeling of being part of something. This has been happening with certain regularity lately and gives me great satisfaction.
"After 10 years, seeing the singers have the feeling of being part of a group is very satisfying"
Related to conducting choirs, do you have any pending subject?
I would like to try contemporary music. But for this an especial motivation is needed, because it's a kind of music that's not as easy to listen to as, for example, tonal music. And there is also a challenge which I look for everywhere, which is sound, the fact of being a compact choir, of singing with intention and also expression.
What would you say to someone who is considering joining the choir?
First, that there is a very good atmosphere, that we do music and we do it right, that there is a lot of motivation, that the human group is fantastic and that it's a useful way to disconnect and feel better. And this has something to do with brain function. If you do a scientific activity, you work on the analytic part of your brain which is located on the left side, and after many hours of using it, there is a certain discomfort and tiredness… You need something to unburden yourself, an art activity to start up the other brain hemisphere – try singing in the PRBB choir!
"I encourage everyone to join the PRBB choir: there is a very good atmosphere, we do music and we do it well, there is a lot of motivation, the human group is fantastic and it's a useful way to disconnect and feel better!"