It has been 7 years since the United Nations General Assembly declared February 11 as International Day of Women and Girls in Science.
Since then, the number of initiatives and activities that use this day each year to empower women and girls in the world of science has been steadily increasing. Unfortunately, the need for such a claim has not diminished proportionately. The Covid-19 pandemic, which has left no sector unharmed, has especially affected women, and even more so mothers – also in the academic world.
That is why this February 11th it is more important than ever to support women scientists, as essential references for boys and, especially, for girls. And it is in this context that the PRBB and its Committee on Equality, Diversity and Inclusion, formed by all the park's centres, organize two actions: a wikimarathon on February 8 and a round table on February 15.
Breaking the gender gap in Wikipedia
For the fifth year in a row, the PRBB is making women scientists and their contributions visible through the Wikimarathon, an action organized in conjunction with the Espai Viquidones of Pompeu Fabra University (UPF).
This year, the event which will be held on February 8, from 5 to 7 pm. It will be an online edition where, after a brief introduction, each person will be able to edit the wikipedia (creating, translating or improving pages) in any language, with the support of expert staff. The wikimarathon is open to everyone, no prior experience is required and you can stay there for as long as you like. You can sign up at bit.ly/viquidonesPRBB2022.
The gender gap in Wikipedia is a reflection of that which exists in the mainstream media. According to several studies, such as the 2018 Informe Quiral on Women, Health, and Communication, there are still too few female data or topics, or women as expert sources, and too many unsuitable uses of language, as well as images that encourage stereotypes.
If things remain the same, it will take at least another 67 years to close the gap for gender equality in traditional media.
(GMMP 2020)
On this fifth anniversary of the Wikimarathon, the scientific community of the PRBB has invited other research institutions in Catalonia to join. Because united we are stronger, and in order to break the gender gap, we need indeed to be strong and persistent. The more than 15 institutions that join forces under the umbrella of the PRBB and its six centers are:
Institut d'Investigacions Biomèdiques August Pi i Sunyer (IDIBAPS)
Institut d'Investigació Biomèdica de Bellvitge (IDIBELL)
Institut de Recerca Biomèdica (IRB Barcelona)
Institut Català de Nanociència i Nanotecnologia (ICN2)
Centre de Supercomputació de Barcelona (BSC)
Centre de Visió per Computador (CVC)
Centre de Recerca en Agrigenòmica (CRAG)
Bioinfo4Women
Institut de Ciències Fotòniques (ICFO)
Institut de Ciència de Materials de Barcelona (ICMAB-CSIC)
Institut Català de Paleontologia Miquel Crusafont (ICP)
Institut de Microelectrònica de Barcelona (IMB-CNM, CSIC)
Institut de Neurociències de la UAB (INc-UAB)
Institut de Ciències de l'Espai (ICE-CSIC)
Centre de Recerca Ecològica i Aplicacions Forestals (CREAF)
Universitat Oberta de Catalunya (UOC)
Associació Catalana per a la Comunicació Científica (ACCC) – Grup de Perspectiva de Gènere en la Ciència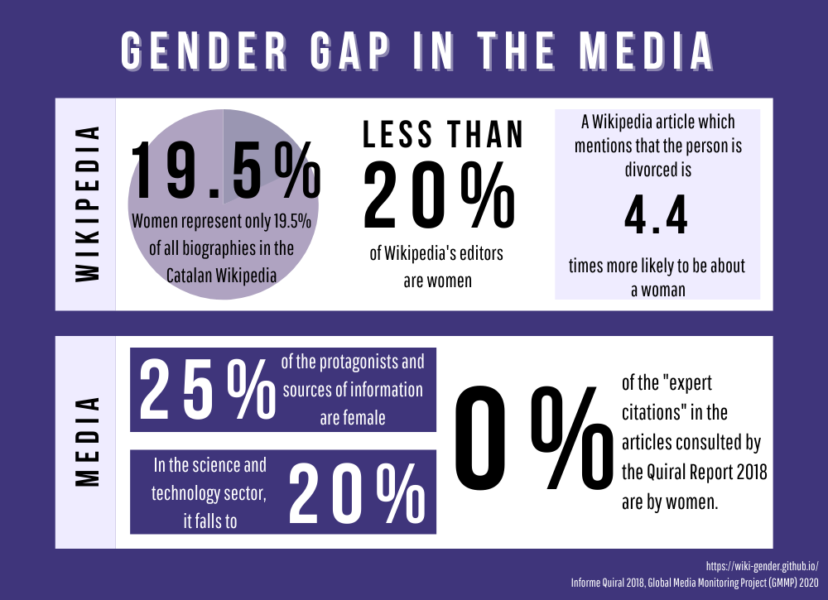 Motherhood in science
February 15 will be the turn to celebrate, specifically, the mums in science. A round table co-organized by the PRBB and IDIBAPS will discuss the systemic structural barriers that hinder the development of the careers of parents in science. The event will take place at 12:30 pm by zoom and you can register here: bit.ly/maternityinscience.
38% of mothers and 13% of fathers in STEMM say they have been offered fewer career opportunities since they had children, according to a study by Mothers in Science.
The round table will be moderated by Isabel Torres, founder of "Mothers in Science", an association that seeks to advocate for mothers in STEMM and to promote equity in the workplace and the inclusion of mothers, fathers and caregivers. Three women (two of them mothers) and two men will take part in the round table:
"We want nobody to feel they need to choose between having a family or a career"
Isabel Torres (founder of "Mothers in science")
Moving forward together
After two years of pandemic, it is clear that work-life balance is still an important pending issue in society, and that academia is no exception. And that this, among many other factors and biases, plays a role in the lack of women in leadership positions in science.
From the research centers, we must do everything possible to recognize our female scientists, to get more support for families and a better division of tasks, as well as to strengthen female referents to ensure a more diverse future scientific community. With these actions, this February 11 we take a common step in this direction.