The XXII Breast Cancer Day, organized by the Program for early detection of breast cancer of the Parc de Salut Mar, took place on March 22 at the Sala Marull in Hospital del Mar.
For 22 consecutive years, different professionals from different backgrounds have met annually to discuss various aspects of the prevention, diagnosis and treatment of breast cancer.
This year, the XXII edition focused on the quality of life for women who have overcome cancer. Under the title "What after cancer? Chronicity and quality of life of patients after breast cancer", about 200 doctors, researchers, nursing staff, as well as patient representatives got together throughout the morning to discuss issues such as current long-term patient monitoring protocols, radiological follow-up or long-term adverse effects.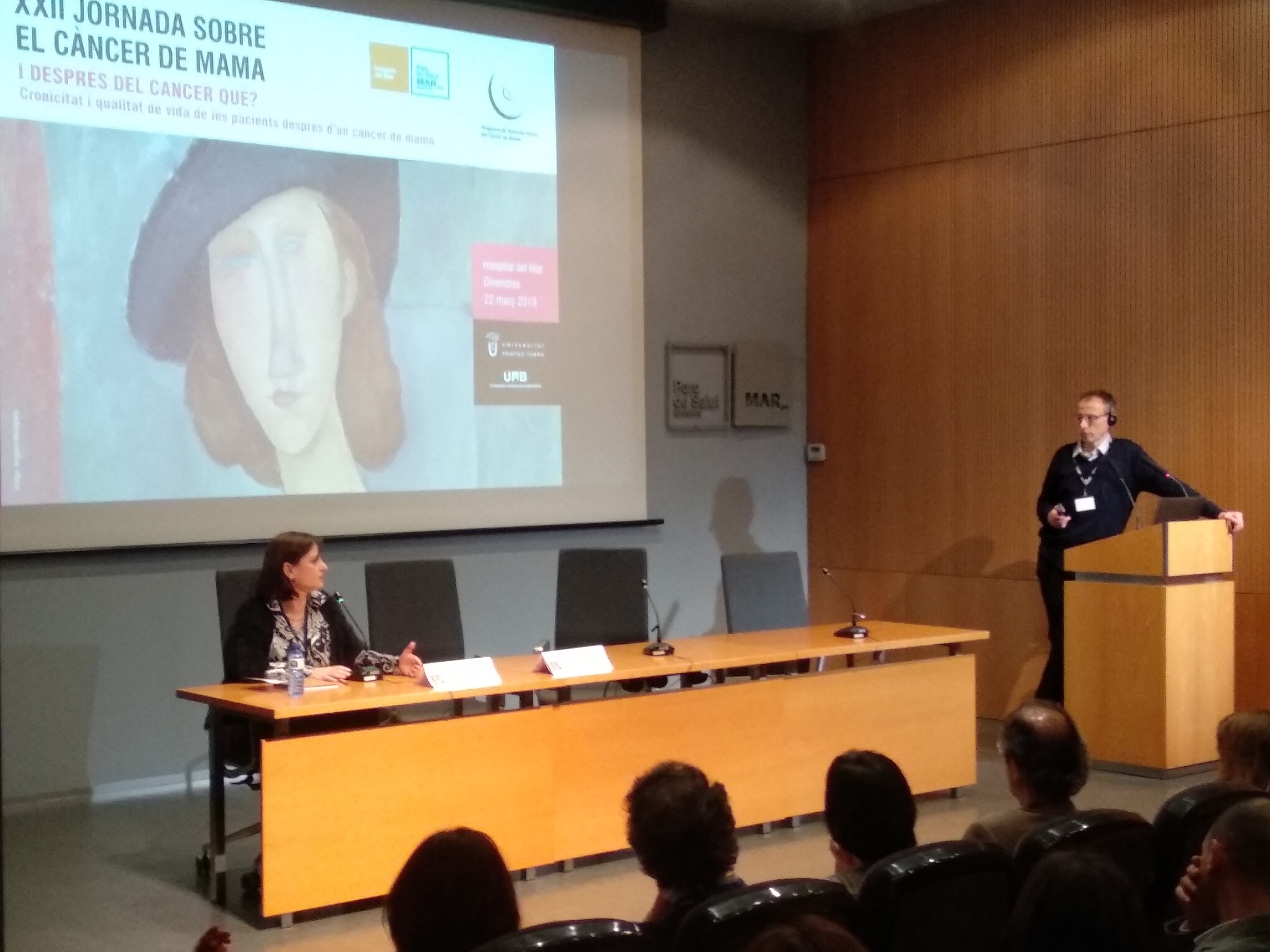 The conference was opened by a talk by John Browne, professor of epidemiology and public health at University College Cork and director of the National Health Services Research Institute in Ireland. Browne talked about the importance of people-centered care.
A new definition of success
According to Browne, the "main barrier to improving global health care" is that we are not measuring what is really important for patients. Most parameters are based on the professional's vision; for example, a reduction in hospital stays is considered positive, but is it really, from the patient's point of view? In addition, there are many different types of treatment, for example, different types of surgery, and there are no clear studies on which type is best for which patient. "Surgery is a bit like a black box; There is a lack of clinical studies, and standardization is needed to be able to do studies in different countries", said the Irish epidemiologist.
As an example, the epidemiologist explained one of the studies that took place in England. The national mastectomy and breast reconstruction survey analyzed all UK women who underwent mastectomy (with or without reconstruction) during the years 2008 and 2009; in total some 18,000 women from whom they obtained the complete information. The results showed that the levels of reconstruction vary greatly depending on the geographical area of the country. In the economically more prosperous areas, women tend to undergo reconstruction more often than in poorer areas.
He also spoke about the ICHOM (International Consortium for Health Outcomes Measurement), an international consortium of which Harvard and the Karolinska Institute are involved and where Browne has acted as advisor on breast cancer. The goal of the consortium is to define standards to ensure that everyone measures the same objective parameters, and that these are those that matter most to patients.
The standards they reached in the case of breast cancer, after several meetings and anonymous surveys with patients, were published in 2017 and can be read in this article. Browne encouraged the physicians in the room to use these standards, explaining that there was no solution that worked for everyone but that each had to find what worked in their context. He also emphasized that team work and good leadership were essential to achieve these standardads of patient-centred care.
The aim of the Breast Cancer Day is to provide a space for discussion and knowledge update amongst different professionals in relation to the prevention, diagnosis and treatment of this disease.
According to Francesc Macià Guilà, coordinator of the event, another of the conclusions of the meeting was that, despite of the huge advances in breast cancer in the last decades, there is still an excess of mortality of 5-10% when comparing cancer survivors (in 20 years of follow-up) to the general population. The cause is to be determined, but it could be due to biological cancer factors. You can read an interview to Macià in the Catalan version of the article.