Last July the first Brain organoids Advanced hands-on course took place at the Centre for Genomic Regulation (CRG). It was co-organised by the Tissue Engineering Unit at the CRG, led by Laura Batlle, Sandra Acosta, a Professor of Human Embryology at the UB, and the CRG Training and academic office, who oversaw the overall organization and logistics of the workshop.
The week-long workshop was open both to researchers starting in the field and those with more experience that wanted to become more proficient. From PhDs to postdocs to even PIs, the 16 participants from all over the world, including Australia or Taiwan, created brain organoids and analyzed using advanced imaging and multiomics techniques.  
Participants of practical workshop started off with a culture of human pluripotent stem cells. These can be either embryonic stem cells or the so-called induced pluripotent stem cells (iPSCs, from adult cells reprogrammed back into a stem cell state). 
Seed the right amount of cells into a dish/plate to form spheres, add specific molecule cocktails for cell differentiation, and a gelatinous protein matrix to help with the 3D structure – and in about 10 days the tiny brain models make their appearance. "Seeing our own organoids, how nice they were, and then using them… it was great!", said Deepshika Arasu, a PhD student from France and one of the participants.
16 participants from all over the world, including Australia or Taiwan, created brain organoids and analyzed using advanced imaging and multiomics techniques.
The procedure seems straightforward on paper, but it's not so simple. "One of the key points is getting the perfect starting culture. If it is not of good quality, the resulting organoids will not follow the expected developmental process", says Jacqueline Severino, one of the instructors of the hands-on experiments. She run the part of the hands-on analysis and multiomics session at Barcelona Biomedical Research Park (PRBB) and the Pasqual Maragall Foundation in Barcelona, together with Adrià Dangla, both members of the CRG Tissue engineering unit, and Isabel Turpín, Andrea Martí and Laura García from the UB.
Apart from the experimental part, the course included academic talks by leading keynote speakers from all over Europe. There were also plenty of discussions, both at technical level but also about how to ethically implement and use the organoid systems. "It was an amazing opportunity to do networking, and the participants were very participative, both during the course and in the team-building activities", remarks Jacqueline.
"This was one of the best workshops I have done and one of the best platforms for networking" 
Kulbhushan Sharma (PI at University of Oslo)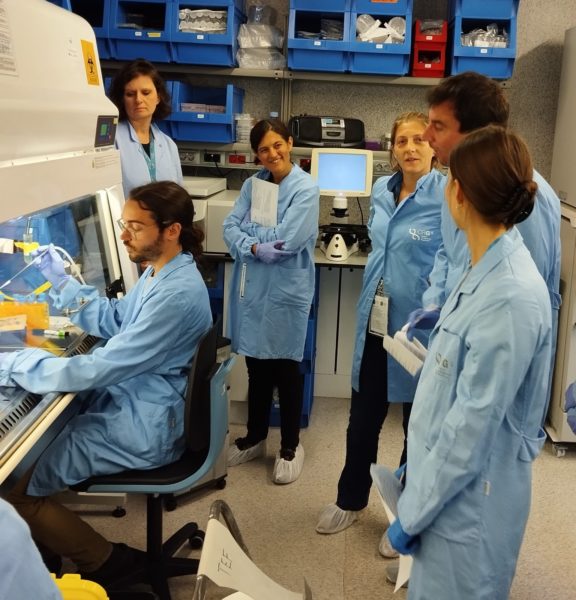 A pioneering course
The CRG Tissue Engineering Unit has already organised two very well rated international organoid courses before, in the past few years, but this was the first one focused specifically in brain organoids, a type of organoids that started to appear about a decade ago. "As the stem cell and organoid field is moving very fast, this course was a great opportunity for researchers interested in the field to get started and to be able to advance with the new technologies that are emerging and currently being used", comments Batlle.
"I think the demand for brain organoids is increasing because they are a very good model for example for toxicology assays, electrophysiology measurements or spatial transcriptomics", says Jacqueline. "They also allow for a much more complex disease modelling than 2D cultures, with a wide diversity of brain cell types, self-organised in organ-like structures that cannot be reproduced in 2D. This comes at a cost in terms of culture length (some labs have kept organoids growing for up to two years!) and data processing, but the technologies continue to evolve and both growing and analysing organoids are becoming increasingly accessible to researchers", adds Adrià. 
"I think the demand for brain organoids is increasing because they are a very good model for toxicology essays, electrophysiology measurements or spatial transcriptomics, among others"
Jacqueline Severino (course instructor, CRG)

"Brain organoid generation is a complex procedure that requires hands on expertise in different areas such as pluripotent stem cell culture, stem cell biology and neurodevelopment. At the Tissue Engineering Unit, we help researchers to plan and execute stem cell related experiments, some of them involving the use of brain organoid experiments as a service. It was really interesting to interact with the participants and be able to help them in learning further about brain organoids and their applications to their projects", comments Batlle.  
According to the organisers, the course has achieved two goals: to help the researchers to move forward in the field of brain organoids, but also to facilitate networking among them to help grow the field itself. "At the end of the course, some of the participants were discussing about projects to do together, which is the best outcome that we could hope for", says Acosta. Undoubtedly, a course to be repeated in the near future.
Here you can see a video summary of the course.