March 21 is World Down Syndrome Day (DS). Although there have been both social and medical great advances, there is still much to do to improve the quality of life of people with DS. Research is an essential pillar to better understand this syndrome, which is the most common genetic cause of intellectual disability. For this reason, at the Barcelona Biomedical Research Park (PRBB), research teams from different centers have joined forces and put together their knowledge and experience.
We tell you about some of their most recent studies, as well as two projects that are just starting and looking for volunteers.
Down syndrome and Covid-19
A recent study led by Mara Dierssen at the Centre for Genomic Regulation (CRG) has provided new data confirming that people with DS have an increased susceptibility to Covid-19. These results, together with other previous studies, have helped to make a change in the Spanish vaccination strategy a reality: now people with DS over 40 years of age will be vaccinated with the group of those over 70.
"Our study shows that people with DS over 40 years of age and those younger but with significant comorbidities, are at a higher risk of serious complications after COVID19 infection. This has helped to include them in the priority vaccination groups in Spain, one of the pioneer countries of this initiative"
Mara Dierssen (CRG)
Down syndrome and green tea
Another recently published study has shown that low-dose green tea extract improves facial features in young children with DS. The studey involved researchers from the European Molecular Biology Laboratory – Barcelona (EMBL Barcelona) (James Sharpe), the Hospital del Mar Medical Research Institute (IMIM) (Rafa de la Torre) and the Centre for Genomic Regulation (CRG) (Mara Dierssen) and was led by Neus Martinez, currently at the UB but until recently a researcher at the PRBB, first at the CRG and then at the EMBL Barcelona.
This study follows the path already started a few years ago by the Dierssen and de la Torre teams, who showed in a clinical trial that EGCG – an antioxidant component of green tea – improved the cognitive abilities of adults with DS.
The current project has focused on the youngest.
In mice, they found that adding green tea extracts to the water the mothers drank led to facial characteristics of their DS babies more similar to those of the control group. The dose of EGCG was crucial; indeed, too high a dose not only did not have the desired effect, but in some cases the dysmorphology increased.
In an observational study they have performed facial analyzes of almost 300 children and young people. Some of them had self-consumed an EGCG supplement and, again, these showed less facial dysmorphology. This improvement was evident in the youngest age group – between 0 and 3 years old – but not in the adolescents.
It is important to take these results with caution, says Neus Martínez: "To know for sure which doses are appropriate, and to better understand their potential effects, both positive and negative, more controlled studies should be carried out, with a clear protocol of the doses to take and for how long".
"Our study shows that EGCG could have a positive effect on facial features, but only at low doses; high doses could, in fact, be counterproductive. More studies with well-controlled protocols need to be done before drawing conclusions"
Neus Martínez (currently at the UB)
The analysis of facial features consisted of taking 10 photos at a time, from different angles, and then reconstructing the face in 3D, using a software program. The faces are then compared, measuring the distances between 21 specific points.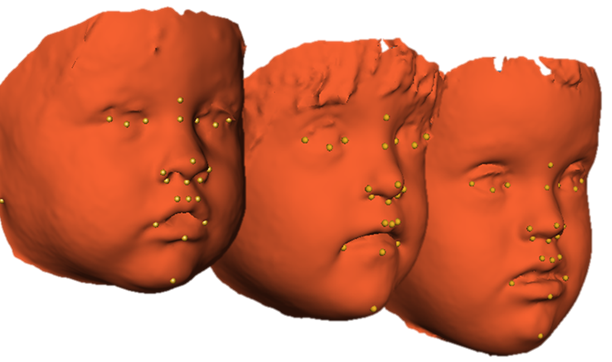 Down syndrome – become a volunteer!
In addition to these two recent studies, IMIM is currently recruiting volunteers for two more studies on DS:
Join the studies and spread the word!
Reference article
De Toma, I., Dierssen, M. Network analysis of Down syndrome and SARS-CoV-2 identifies risk and protective factors for COVID-19. Sci Rep 11, 1930 (2021).
Starbuck, J.M., Llambrich, S., Gonzàlez, R. et al. Green tea extracts containing epigallocatechin-3-gallate modulate facial development in Down syndrome. Sci Rep 11, 4715 (2021). https://doi.org/10.1038/s41598-021-83757-1