Next October 19th and 20th, the Department of Medicine and Life Sciences (MELIS-UPF) is organizing once again its annual meeting- a symposium with international speakers aimed at biomedical researchers located in the metropolitan area.
The event, which will last a day and a half (from Thursday afternoon to Friday), will take place at the Auditorium of the Barcelona Biomedical Research Park (PRBB). You can see the detailed program here.
As a novelty, this year the symposium will have a flash talk session where the MELIS PhD students and postdocs' will present their research results in 4 minutes. In turn, the audience will have the opportunity to vote to select the best talk. The author of the best talk will win a "travel grant" to attend a scientific conference during this academic year.
A broad range of topics and speakers
Since the MELIS Department has recently incorporated several permanent faculty from Hospital del Mar to teach Medicine in its own Medicine Degree, one of the main talks this year will be by Fernando Burdío, a medical doctor from Hospital del Mar Research Institute.
"The annual MELIS symposium is an excellent opportunity to hear new research in all areas of biomedicine, covering the broad research interests of our department"
Jordi Garcia-Ojalvo, director of MELIS-UPF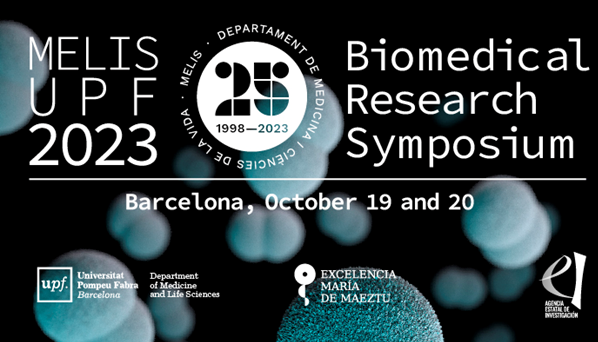 Apart from the nearly 25 flash talks by the youngest researchers, there will be seven 45 min talks covering protein science, medical innovation, neuroescience, development, cancer, theoretical biology and the microbiome.
The talks and speakers will be:
David Baker (Institute for Protein Design, University of Washington): "Design of new protein functions using deep learning"
David Baker is the director of the Institute for Protein Design, and his research group is focused on the design of macromolecular structures and functions. Since he is limiting his intercontinental travel in order to concentrate on his research, this talk will be online and projected in the PRBB auditorium – please note it won't be streamed.
Fernando Burdío (Hospital del Mar Research Institute Barcelona): "Opportunities and challenges in thermal ablation therapies"
Fernando Burdío is the leader of the Ablative therapies in oncology surgery group at the Hospital del Mar Research Institute in Barcelona. The primary goal of this research group is technological innovation in the field of high-frequency currents applied to generate heat in biological tissues.
Arnau Busquets (Hospital del Mar Research Institute Barcelona): "Subcellular, cellular and circuit mechanisms underlying mouse behavior"
Arnau Busquets-García leads the group Cellular mechanisms in physiological and pathological behavior. The research lines of his group are focused on investigating the possible therapeutic effects of cannabinoid drugs in Alzheimer's disease and on deciphering how the brain forms associations that determine our daily decisions.
Cristina Pina (Brunel University London): "Noise and choices in leukaemia evolution "
Cristina Pina is a Senior Lecturer in Biomedical Sciences at Brunel University London. Her research group is interested in contributions of transcriptional noise to normal and malignant cell fate decisions, with a focus on the haematopoietic system. Recently, she has developed a 3D gastruloid model of blood development, which she is using to dissect mechanisms of haematopoietic stem cell specification and leukaemia transformation in utero.
Christian Schröter (Max Planck Institute of Molecular Physiology): "Collective cell differentiation in early mammalian development"
Christian Schröter is leads the Molecular Dynamics of Cell Fate Decisions Research group at the Max Planck Institute of Molecular Physiology. His research focuses on the question of how cell-cell communication controls differentiation in single cells and population, using embryonic stem cells as a model system.
Virginie Uhlmann (EMBL-EBI Cambridge): "Turning biological morphology into numbers"
Virginie Uhlmann is a Research Group Leader and the Deputy Head of Research at the European Bioinformatics Institute (EMBL-EBI) in Cambridge, UK. Her research focuses on the development of algorithms for quantitative bioimage analysis, with strong interests in approximation theory, machine learning, computational geometry, and statistical shape analysis.
Mireia Valles-Colomer (MELIS-UPF): "How do our body-associated microorganisms spread? The person-to-person transmission landscape of the human microbiome "
Mireia Valles-Colomer is a tenure-track group leader at the MELIS department of UPF, leading the Microbiome Research Group. With a background in Microbiology and Computational Biology, her research focuses on the role of the human microbiome in mental health and its transmission among individuals.
The symposium is open to all PRBB residents, as well as other scientists in Barcelona, but registration is needed.