Two of the Principal Investigators most recently arrived to the Biomedical Research Park of Barcelona (PRBB) are Ana Janic and Sara Sdelci . On Wednesday March 6 they got together to give one of the joint Group Leader Seminars that take place at the PRBB Auditorium every week.
The two young women, who introduced each other, presented their latest work on cancer. Although they are using different strategies and are centered on different genes, their talks were well aligned, since they both focused on functional screens for studying tumour development.
In vivo
Ana Janic leads, since only a couple of months ago, the Cancer biology research group at the Department of Experimental and Health Sciences, Pompeu Fabra University (DCEXS-UPF), after having lived and done research in such distant places as Germany, Serbia and Australia. Her new group – which she hopes to expand soon – is studying the p53 network in tumour suppression.
She explained a recent in vivo RNAi screen she performed in mice to find out which of the many processes p53 is involved in (apoptosis, cell cycle control, senescence) could be mediating its tumor-suppressing role. The fact that triple knockout mice, deficient in all three processes, did not develop tumors (as do p53 deficient mice) made her think there might be something else that was not been taken into account.
The screen, where she used shRNAs targeting p53-regulated genes, yielded 40 shRNAs which promoted tumors, from which she further selected 17. Most of these targeted genes involved in DNA repair and cell proliferation, as well as some novel genes. In particular, one of the genes (Mlh1) was able to cause tumors also in wild type mice; although it could not completely rescue the phenotype of p53 mutants. Her conclusion: DNA repair is one of the most important roles of p53 in the suppression of tumors – but it is not the only one. Her new team at the UPF will certainly shed more light into these mechanisms in the years to come.
DNA repair is one of the most important roles of p53 in the suppression of tumors – but it is not the only one.
In vitro
Sara Sdelci is one of the latest recruitments at the Centre for Genomic Regulation (CRG), where she leads the research group on the epigenetic face of cancer metabolism. Indeed, the work she talked about – accepted but not yet published – focused on BRD4 (Bromodomain-containing protein 4), an epigenetic reader which boosts transcription of several target genes, including Myc, one of the most well-known oncogenes. With a reporter cell line she generated, she did two different screens; a drug screen of more than 90,000 compounds, and a genetic screen done with gene-trap technology (because as she mentioned "CRISPR didn't exist when we started"). With this technique, a retrovirus introduces to the cell a construct formed by the Green Fluorescent Protein (GFP) and a splicing receptor – this will truncate the protein, and the cell where this has happened will be fluorescently labelled.
The screen led her to the MTHFD1 protein, which is a metabolic enzyme involved in the synthesis of nucleotides such as purine and pyrimidine. This protein binds BDR4 and they both co-localise in the same loci; together they are involved in transcription control. Her work thus showed that MTHFD1 is important for the de novo synthesis of nucleotides and their incorporation into mRNA – a function for which its nuclear localisation (and its binding to BRD4) is important. The Sdelci lab, small but looking forward to growing, will continue investigating how metabolism enzymes influence chromatin remodeling, epigenetic regulation and gene transcription in cancer.
MTHFD1, a genetic partner of BRD4, is important for the de novo synthesis of nucleotides and their incorporation into mRNA.
Generating synergies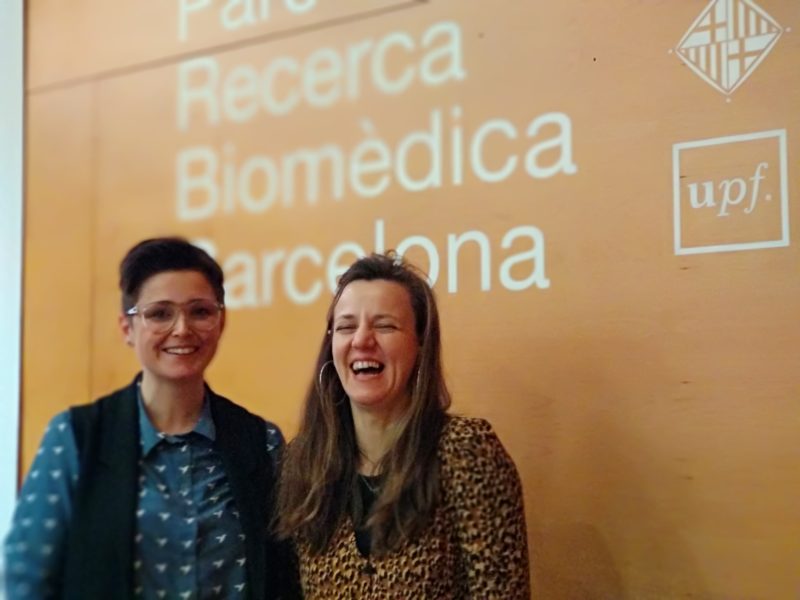 Despite working in similar fields and having somewhat parallel lives  – they both were working at the same institution, the Institute for Research in Biomedicine (IRB), for a period of time – Janic and Sdelci had never met. Now both at the PRBB, and thanks to the joint Group Leaders Seminars, the two young scientists have finally connected. "It's been great to get to know each other, since our research has so many things in common. We are even going to apply for a grant from La Marató together!", says Sdelci. The alliance of these two female researchers will surely have a lot to offer to cancer biology.