For the eighth consecutive year, the International Day of Women and Girls in Science, will be celebrated this February 11. This is the day the United Nations General Assembly chose to make women in science visible and to encourage and empower girls who want to dedicate themselves to a scientific discipline.
And as every year, the PRBB and its centers join this important initiative, this time with two activities: a wikimarathon and talks for primary school students.
Wikimarathon
The PRBB celebrates this date with the 7th edition of its Wikimarathon of women and science. On Monday, February 13, from 16:30h we will meet up to edit the Wikipedia in several languages, but always on scientific topics and with a female perspective: from creating biographies of women scientists to improving women's contributions in different scientific disciplines.
The meeting, organized by the PRBB Equality, Diversity and Inclusion Committee – formed by all the centers at the park – in collaboration with ViquidonesUPF and Amical Wikimedia, will take place in the Marie Curie Room of the PRBB, as well as online via Zoom.
You can register here.
This year, for the second time, the event is supported by several research centers and universities in Catalonia:
Associació Catalana de Comunicació Científica (ACCC)
Societat Catalana de Biologia (SCB)
Barcelona Institut of Science and Technology (BIST)
Centre de Recerca Ecològica i Aplicacions Forestals (CREAF)
Centre de Visió per Computador (CVC)
Institut d'Investigacions Biomèdiques August Pi i Sunyer (IDIBAPS)
Institut d'Investigació Biomèdica de Bellvitge (IDIBELL)
Institut de Recerca Biomèdica (IRB Barcelona)
Institut Català de Nanociència i Nanotecnologia (ICN2) Centre de Supercomputació de Barcelona (BSC) Bioinfo4Women
Institut de Ciències Fotòniques (ICFO)
Institut Català d'Investigació Química (ICIQ)
Institut de Ciència de Materials de Barcelona (ICMAB-CSIC)
Institut de Neurociències de la UAB (INc-UAB)
Institut de Microelectrònica de Barcelona (IMB-CNM, CSIC)
Universitat Oberta de Catalunya (UOC)
Talks in schools
Beyond giving visibility to women scientists in Wikipedia, it is also important to make them essential role models for both boys and girls from a very young age. In fact, there are already several studies that show that, from as early as 6 years old, kids begin to show gender biases in relation to science.
To work on this and show students that everyone can do science, both men and women, some 40 female researchers (along with some male colleagues) will go to schools throughout the region to explain to children from 2nd to 4th grade of primary school "what science is, how science is done and who does science".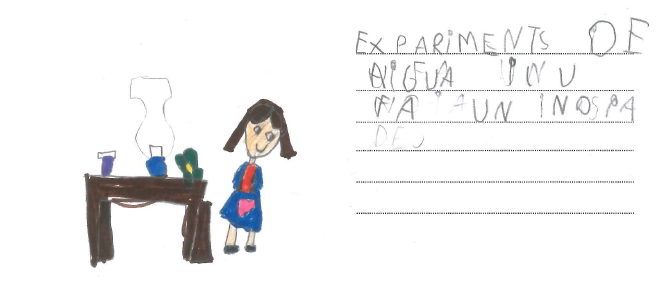 With these two activities, along with complementary initiatives of the six centers of the Park through social networks and others, we hope to do our bit to bring to society the important work that thousands and thousands of women scientists have done, do and will do, and encourage new generations to be whatever they want to be. To ensure that this photo of Marie Curie, the only woman at a scientific conference among thirty men, is truly a thing of the past.