Isabelle Vernos' group is part of the Centre for Genomic Regulation (CRG) Cell and Developmental Biology Program since 2005. They study the role of microtubules in the cytoeskeleton.
Microtubules have some essential functions:
they shape the cell
they facilitate the transport of molecules within cells
they are in charge of the sharing of the chromosomes between the two daughter cells during cell division
When a cell divides, microtubules reorganize to form a spindle, at the centre of which the chromosomes are positioned. This mitotic spindle will serve as a guide for half of the chromosomes to go to each of the two new cells.
The Vernos lab, formed by 10 people from 6 different nationalities, tries to understand how microtubules, with the help of some assotiated proteins (molecular motors, kinases, phosphatases and GTPases), self-organise to form this complex structure. For this, they use a very curious experimental system based on frog eggs.
Non-fertilized eggs from Xenopus laevis, a frog that is generally used as a model organism, are collected and an extract is made from them. This extract is then able to re-create the cell cycle in vitro. Indeed, when adding a sperm nucleus to the extract, the extract behaves like a fertilized egg would do: it starts 'dividing' and it forms a mitotic spindle which can be observed under the microscope. Therefore, one can add or remove proteins from the extract and see what the resulting effect is.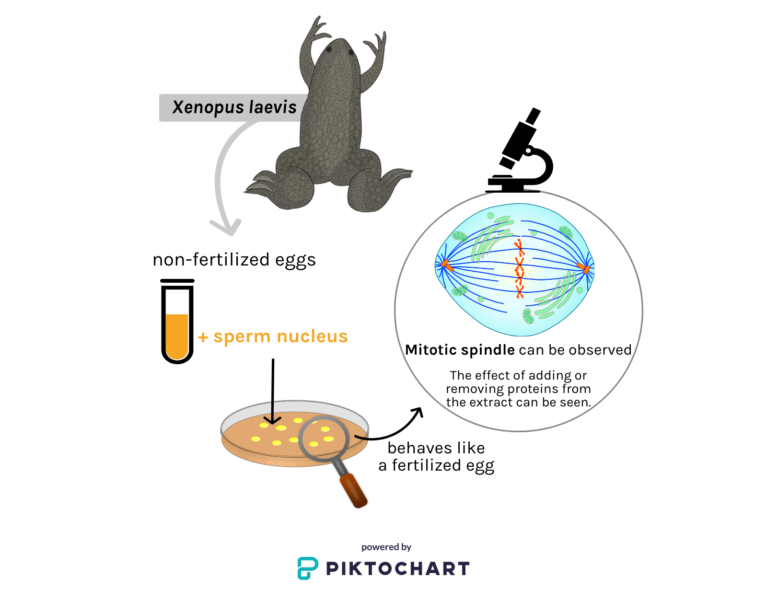 With the help of this experimental model, Vernos has made major discoveries during her career. Amongst them, she highlights the identification of several kinesins (a type of molecular motor) in Xenopus, and the characterization of their role in the dynamics and organization of microtubules.
Her group also collaborates with researchers from around the world, whom Vernos met during her previous years at Cambridge University and at the European Molecular Biology Laboratory (EMBL) in Heidelberg, Germany.