From July 25, and for three months, passengers on the line 4 of the Barcelona subway will get surprised when walking through the corridor of the Ciutadella/Vila Olímpica station, the closest to the Barcelona Biomedical Research Park (PRBB).
The Park and its centres have created a mural decoration, "Leonardo at the PRBB", to offer the tube passengers a look at the human biology, commemorating the 500th anniversary of the death of Leonardo da Vinci (1452-1519).
"The noblest pleasure is the joy of understanding"
Leonardo da Vinci 

Under the statement of this multidisciplinary painter and scientist, "the noblest pleasure is the joy of understanding", a small part of the current scientific knowledge about humans is displayed in a very visual way. The guiding thread of the sample, "from macro to micro", follows the research carried out at the PRBB, where more than 800 scientists study many different aspects of biomedicine, from all areas and levels; from the smallest (molecules and DNA) to the largest (populations and interaction with the planet), passing through cells and tissues.
In this way, the decoration has been divided into six major topics:
Populations
Homo sapiens
Organs
Cells
Genome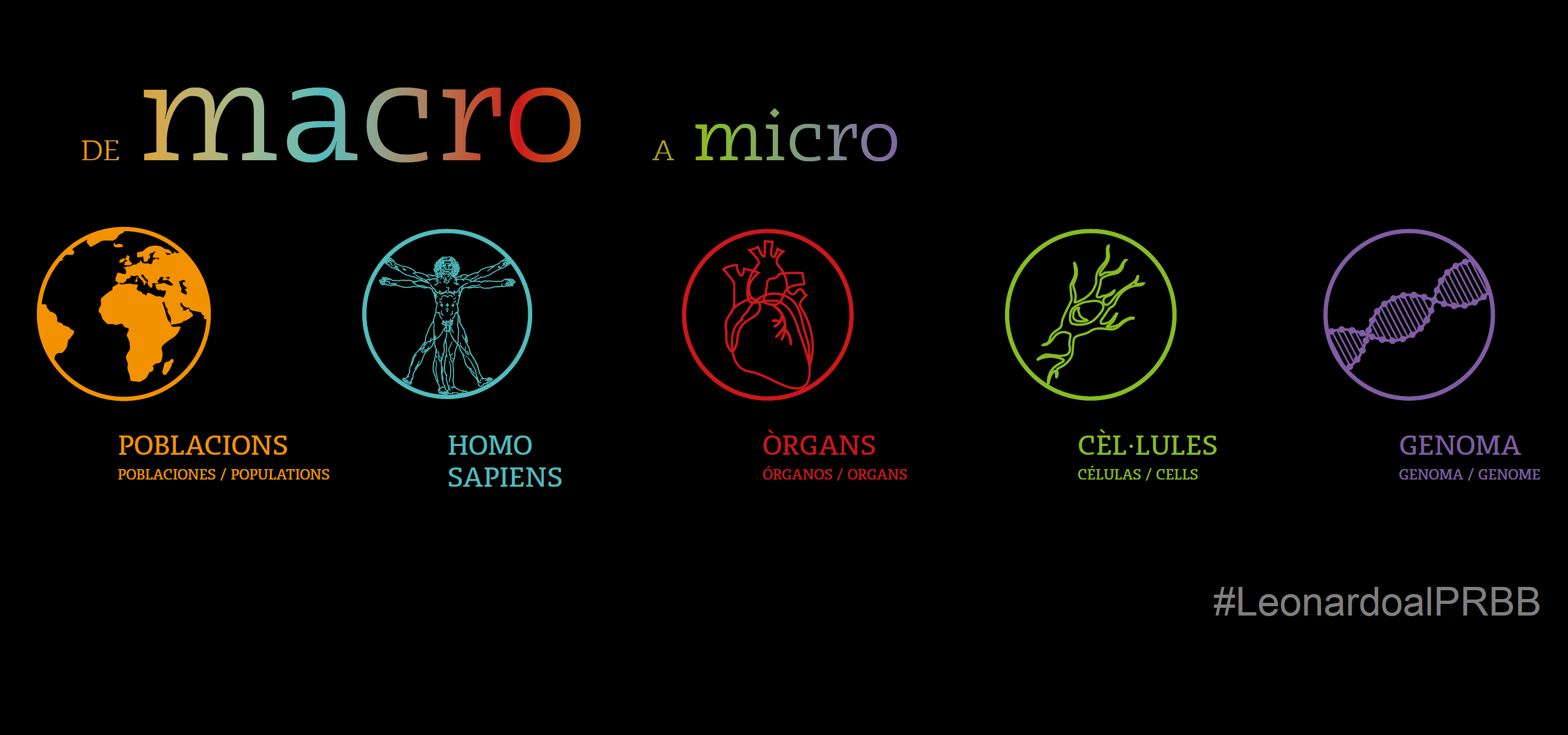 Resources:
PDF Leonardo at PRBB 2019 (15 Mb)
Leonardo at PRBB in ISSUU
With the aim of making the scientific activity carried out at the research centers of the PRBB visible, the trilingual mural intervention (Catalan, Spanish and English) #LeonardoalPRBB combines illustrations from Da Vinci with relevant scientific questions and trends in life sciences and biomedicine. The six topics discussed are studied in the PRBB centres, which have contributed images and content to the mural intervention:
The initiative is led by the PRBB, together with its research centers, and has the collaboration of the TMB Foundation and the support of the Metropolitan Area of ​​Barcelona (AMB).
You can also see some parts of the installation through the #LeonardoalPRBB hashtag on Twitter.