Several young researchers at the Barcelona Biomedical Research Park (PRBB) – four PhD students and postdocs from the Centre for Genomic Regulation (CRG)'s Computational biology programme and a PhD student from the Institute for Evolutionary Biology (IBE: CSIC-UPF) – left together this summer to an unexpected destination: Ukraine.
The five of them – Daryna Zavadska (herself from Ukraine), Anna Vlot, Miguel Rodriguez, Julia Ruehle and Luisa Santus – joined CRG principal investigator Roderic Guigó and others, to teach at the Biological Data Science Summer School, held in Uzhhorod, Ukraine from July 2nd to July 14th.
This summer school was a comprehensive program that delved into fundamental and advanced techniques in bioinformatics and computational analysis of molecular data currently used in biology and biomedicine, such as genomics and multi-omics data. The program – which included theoretical lectures and hands-on practical exercises – was aimed at early-stage researchers in Ukraine, most of them doing their bachelor's or master's degree in biology, mathematics or computer science.
The event was organised by the School of Molecular and Theoretical Biology (SMTB) and the Uzhhorod National University, with the support of the European Molecular Biology Organization (EMBO) and the Zimin Foundation. The CRG contributed financially by flying their staff there, who joined the rest of the faculty: field-leading researchers on data science from numerous institutions located in Europe, the USA and Asia.
We have talked to the young researchers who participated in this course about their experience.
Why was it significant to host the summer course in Ukraine?
The decision to host the summer course in Ukraine was especially significant due to the ongoing conflict. Because of current restrictions, adult males are prohibited from leaving the country – if the course would have been outside of Ukraine, it would have excluded all male participants. Also, considering the impact of COVID-19 and the ongoing conflict, many students had predominantly attended courses online in recent times. And since most of them began their degree already during the war, they got no international experience from before and currently have very limited possibilities to attend international conferences or participate in exchange programs, which are essential to integrate with the international scientific community, establish contacts, etc. So, as long as there are complications with exposing Ukrainian students to an international environment abroad – the environment should be created in Ukraine. That's why doing the Summer School in-person offered such a valuable chance for students and faculty to interact in person.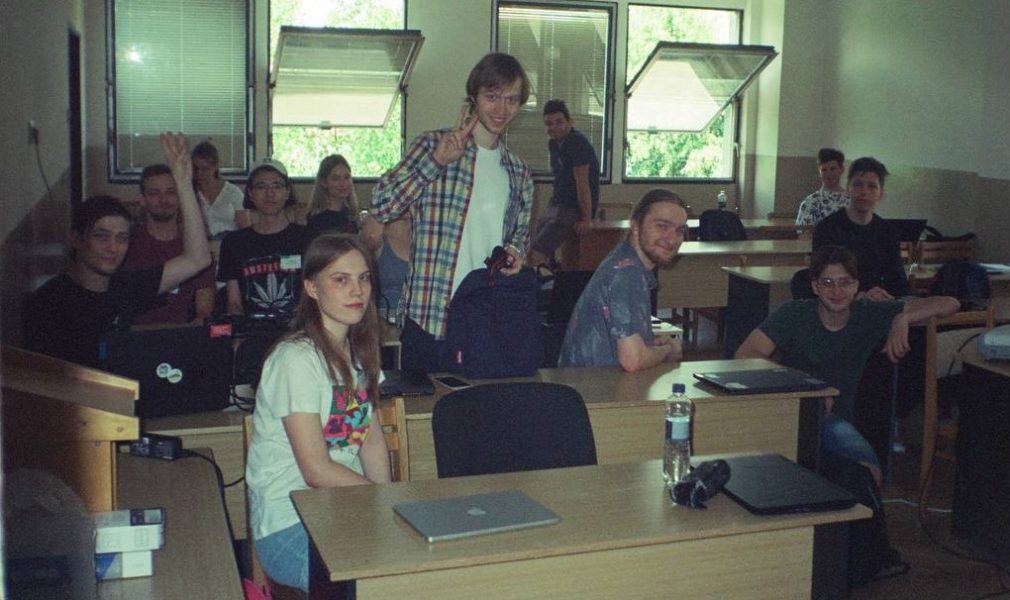 What motivated you to participate?
We think it's important to show support for Ukraine and empathy for the students. We are very privileged to live and do science here, and we are aware that having these opportunities is not only due to our personal achievements, but also a lot of luck. So, it seemed just fair to support the students in Ukraine, to show them the career opportunities that exist and some advice on how to get them, especially now against the backdrop of the ongoing conflict.
On the other hand, for us personally it was also a great opportunity to get teaching experience, in a supportive atmosphere with groups of smart and highly motivated students. Teaching students means not only sharing knowledge, but also learning a lot! In this case, for example, interacting with students coming from various backgrounds provided a lot of insights on how to reach out mixed audiences and collaborate with a diverse group efficiently. Also, it gave us the chance to share our work and promote our research area – in particular to those of us who work in topics that are not extremely popular, like in the case of protistology!
How did your expectations align with reality?
Sometimes it was a bit overwhelming to hear the experiences the students shared. But we really appreciate being given the opportunity to contribute something meaningful to them related to our expertise. There were some doubts initially as to whether our presence would really benefit the students, but the week in Ukraine proved that going there was definitely worthwhile, and had a positive impact for the students. The students made this very clear to us with their kindness and gratefulness during the lectures and by explicitly thanking us on various occasions.
The organizers of the summer school were also very flexible and open to ideas, giving us a lot of freedom in how we dealt with the teaching and letting us come up with extra activities if we wanted to.
"The teachers were great, responsive and they are the main reason that we learned so much"
Participant of the course

What was the reaction of the participants?
According to their feedback, they were extremely happy both with what they learned and with the interactions with all the faculty. They found the lectures informative, well-structured, and supported by attentive faculty, and they were very grateful for our dedication, particularly given the challenging circumstances in the country.
In general, the students were extraordinarily welcoming. They were always happy to share and explain their culture (food, music,…); the cultural exchange was an important aspect for all of us.
"Everyone was quite open-minded and it was great to interact with people, although also difficult after so long without communicating due to covid and war"
Participant of the course
Could you share some more of your daily experience there?
It was encouraging to see that Uzhhorod was a safe space. The students told us that they felt very safe in this city, because it's so close to NATO countries and because the city has never been bombed. Unlike the cities where many of the students were from (like Kyiv, or Kharkiv), there were no curfews and only a few air raid alerts in Uzhhorod.
The city felt so safe that at times one could forget it is in a country at war. One could get reminded quickly, though – by the conversations with the students sharing their experiences, the military training taking place in the city, the recruiting posters in the streets or the air raids. There were two of those while we were there, but everyone was calm and there was a 'clear sky' alarm after 15 minutes.
The dichotomy between everyday life and the underlying reality was striking. One could go for a cocktail or have a stroll next to the river with some nice live music, and suddenly see some windows with sandbags in front of them and get thrown back at the reality of the city.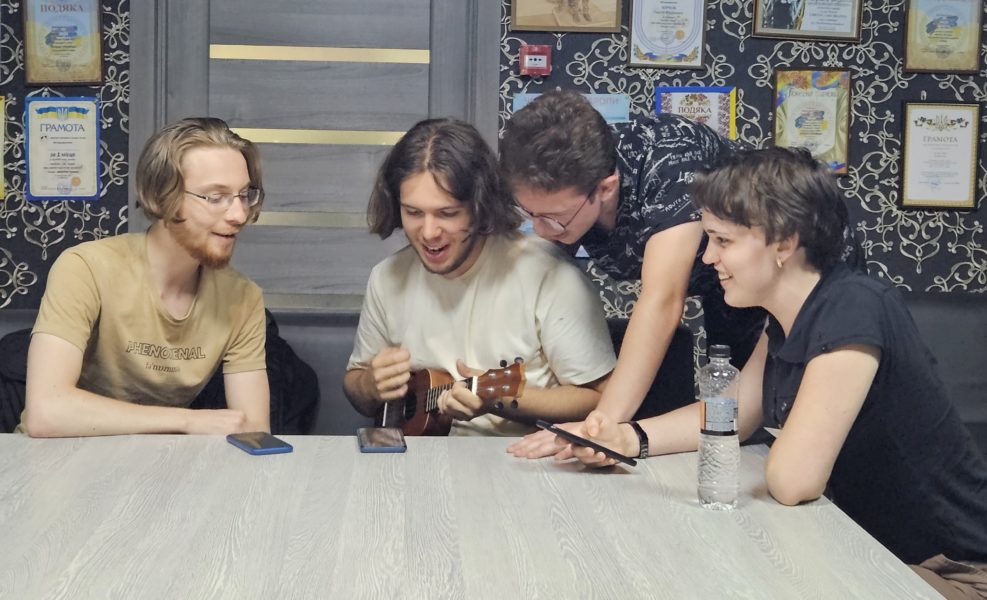 Being able to go out with the students was really nice – especially since some of them were going to a bar for the first time in their lives, because they started studying during Covid and then right after the war started. Also, we had the most amazing soups for lunch – definitely a highlight of the day!
"It was incredible from all perspectives. I've learned a lot, reinforced my motivation in studying, practiced my English and even French. Also, felt surrounded with people, that have same interests that I do. I'll really miss this school and faculty!
Participant of the course
Would you consider participating again or encourage others to engage in similar initiatives?
Absolutely yes! For us it was also a learning experience, and it underscored the value of sharing knowledge, fostering inclusivity, and building bridges across diverse backgrounds, all of which enrich the global research community.