What do art and biomedical sciences have in common? At first glance it seems that not much. However, under the microscope, microorganisms are observed that adopt shapes and patterns, which in the view of an artist, can be the muse for a beautiful work of art. That is why the Department of Medicine and Life Sciences, Pompeu Fabra University (MELIS-UPF), in collaboration with the Vila Casas Foundation, held the first call for artistic residents 2022-2023, in which for a minimum period of three months, the winner visits the facilities of the laboratories and the investigations that are carried out at the headquarters of the PRBB to create a final product that unites art with science.
A gift of life
This is how the contemporary artist Jo Milne considers it. She was awarded a scholarship in the first 2022-2023 edition with the proposal "Sympoiesis and invisible paths". The objective of this winning proposal was to highlight the teamwork that researchers do in laboratories and how they interact with art. Science is not alien to Jo's artistic work, since in the course of her profession she has worked with concepts around physics, mathematics or statistics, among others.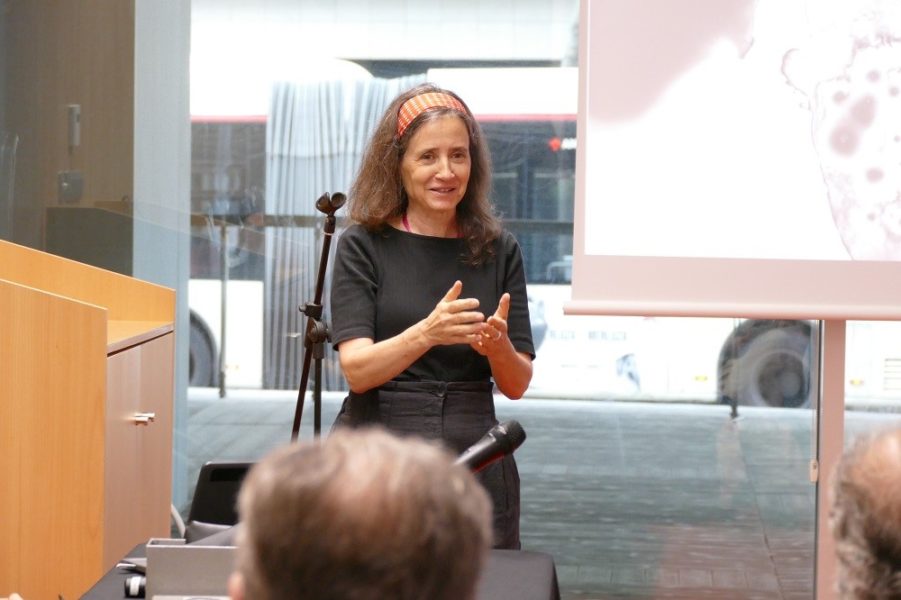 On the other hand, the inspiration on the part of MELIS to carry out this artistic proposal "arises from previous ideas of exhibitions in Barcelona with the scientific component in which the artists interpret science", comments the emeritus professor of MELIS-UPF and coordinator from the Artist in Residence program, Jaume Bertranpetit.
"Both science and art are the product of human creativity. It is necessary that they look at each other, that they talk to each other, that they try to help each other to make creativity grow"
Jaume Bertranpetit
Likewise, to develop this immersive product, Jo was accompanied by Jaume, who says that the artist had about 6 interviews a week according to the research topics that caught her attention the most, whether they were final results or just in the initial experimental phase. For three months, the artist not only observed the MELIS scientists, but also interacted with them, asking them questions and even working on the art together. In the end, between molecular images, manipulation of instruments, photographs, among others, Jo Milne titled her result as Micro-bios; a set of works that was exhibited from June 7 to 16 at the Ateneu de Cervelló.
The MELIS-UPF Artist in Residence program has currently an open call for the second edition of the artistic research grant for the 2023-2024 season. The deadline to apply for the scholarship is July 7. Find out everything about the bases of the call here.