On Wednesday 26 April, the Centre for Genomic Regulation (CRG) will launch the CRG InstaTalks. Short 30-minute talks between female researchers and influencers from the worlds of fashion, photography and comedy, which will allow the general public to see and value science in a different way.
These conversations between content creators and PhD students, which will take place through Instagram live, will bring science closer to an audience of young people who are possibly more distant from the world of research. At the same time, we will find out what the day-to-day life of these researchers at the CRG is like and learn about their experience as women scientists.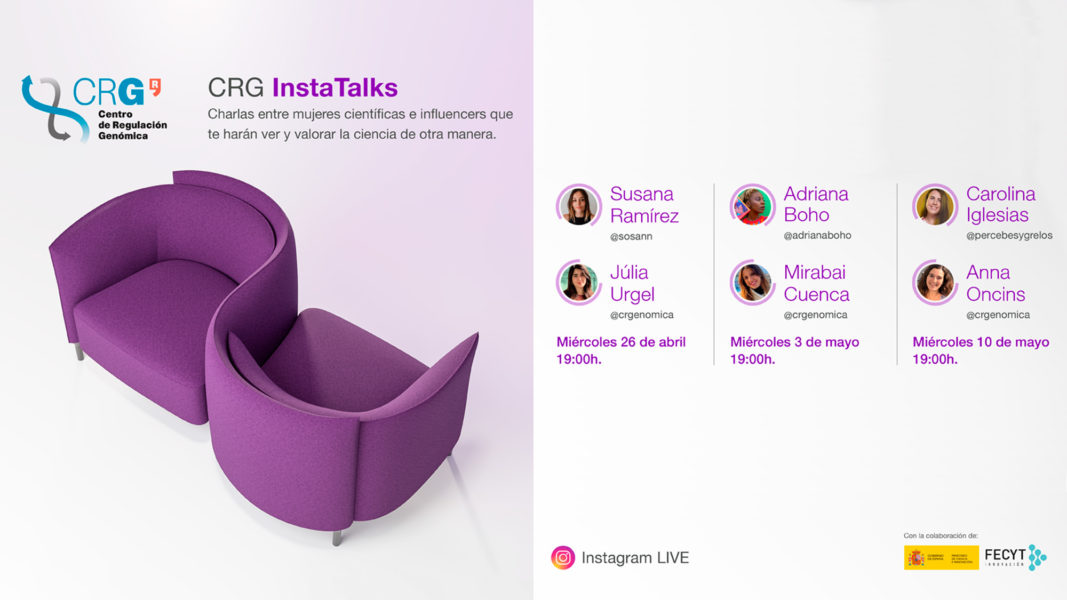 The talks are as follows:
On Wednesday 26 April at 19h, Susana Ramírez (@sosann) – influencer and photographer – will talk to Júlia Urgel, from the Cancer Metabolism Epigenetics group. Among other things, the young researcher will talk about rare diseases, of which the influencer is "an expert in her own skin", as she lives with Takayasu's arteritis, a chronic inflammation of the blood vessels.
On Wednesday 3 May at 19h, Adriana Boho (@ariadnaboho) – influencer, stylist and anti-racist activist – will speak with Mirabai Cuenca, from the genomic regulation and diabetes group. They will talk about diabetes, and both will share experiences, among other things, about how to overcome difficult moments in a professional career.
On Wednesday 10 May at 19h, Carolina Iglesias (@percebesygrelos) – influencer, presenter, scriptwriter and comedian – will talk with Anna Oncins, who is doing her PhD in the single cell epigenomics and cancer development group. Anna will not only talk about lymphoma, but also about her experiences abroad, or the importance of getting society involved in research.
Follow CRG on Instagram (@crgenomica) and make sure you don't miss the #CRGInstaTalks!