The book Bioinformatics for Dummies introduces us to the world of bioinformatics.
As the title suggests, one does not need to know much about nucleic acids, genomics and the long strings of information that define us, in order to get the most out of this instructional book which, in the first chapter, introduces a complicated issue in an easy-to-digest way.
Jean-Michel Claverie and Cedric Notredame, researcher  at the Centre for Genomic Regulation (CRG) present the most useful tools for analysing protein, DNA and RNA sequences in computational biology, from the simplest tasks to those more complex:
how to find a gene or protein in a specific data bank
how to work with a single DNA or protein sequence
how to perform multiple alignments, compare and edit them
how to generate 3D protein structures
how to construct phylogenetic trees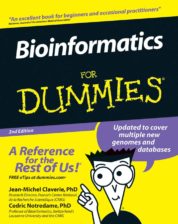 Finally, for those who are interested in delving deeper into bioinformatics, the final section is devoted to the commands used in computer servers and other resources useful for this branch of biology.
A review written by Guillem Lopez-Grado Salinas.